Premium Quality
Ferrocerium Rod

36" Wax-Infused
Hemp Fire Starter Rope

Curved
Steel Striker

Premium
Aluminum Housing

Waterproof, Wind-Resistant
All Weather-Resistant

The Ultimate All-in-one
Fire-starter Tool
ARE YOU PREPARED TO CREATE FIRE?
Watch Our Customers Make Fire!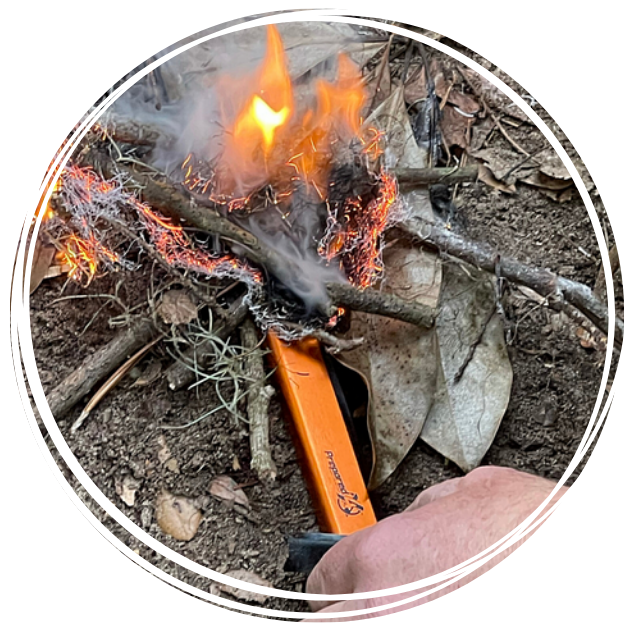 WAY better than the normal striker set! This thing is awesome. The addition of the easy to fray rope to the end makes this far easier to use than the standard set. The rod itself is superior to any ferro rod I've owned prior. My 8-year-old got the hang of it easily. Highly recommend.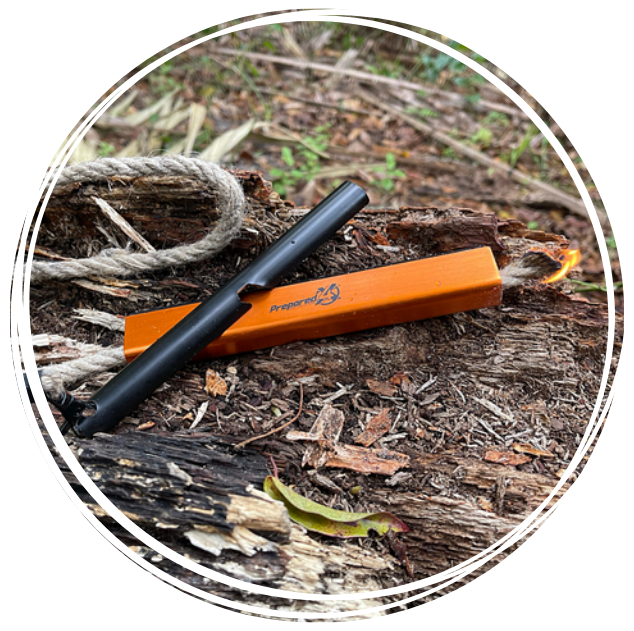 Awesome! I was looking for a fire starter and didn't want to buy all the parts separately. I came across this all in one kit and couldn't resist especially with the price.

Great fire starter kit! Bought this for my husband and he loves it. I think this would make a great gift for a bushcrafter.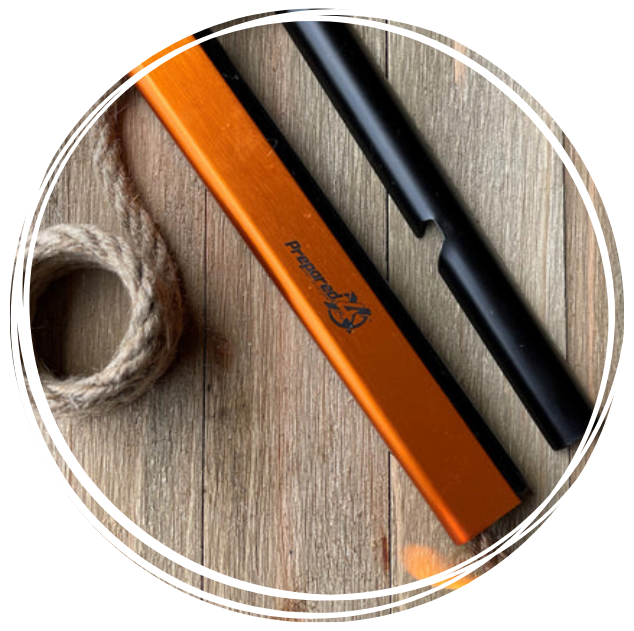 Great invention to marry these two devices! We have a ferro rod and a tinder wick as separate tools in our bag. When I saw this, I had to have one. Such a great idea.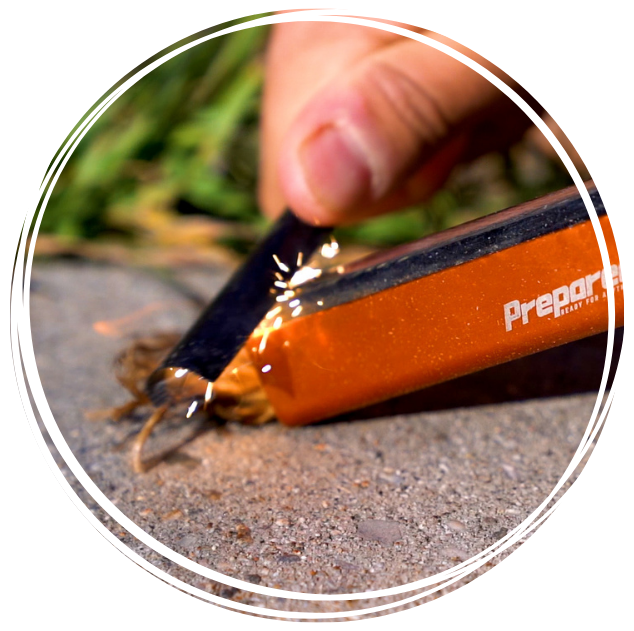 Works easily and exactly as expected! I got this product because I do a lot of outdoor fires. I opened it up and had the rope on fire in less than a minute. I am going to get a lot of mileage out of this product.

Works good in the rain! Once I got the hang of using the striker's serrated end to fray the rope, I could light it with 1 or 2 strikes every time. This is a must have for survivalist! I will be ordering a few more for all my bags.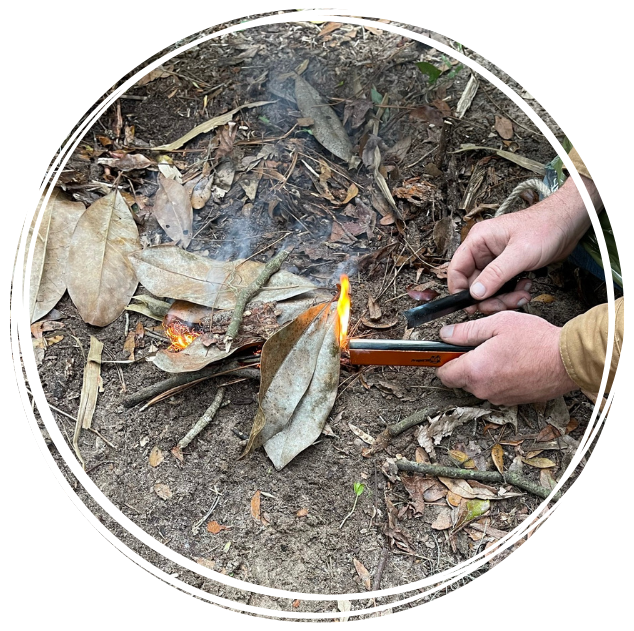 Survival Torch- A trusted source
Lets start by wow ! This tool gives you a solid chance for survival and cool factor on lighting your camp fire. Well done!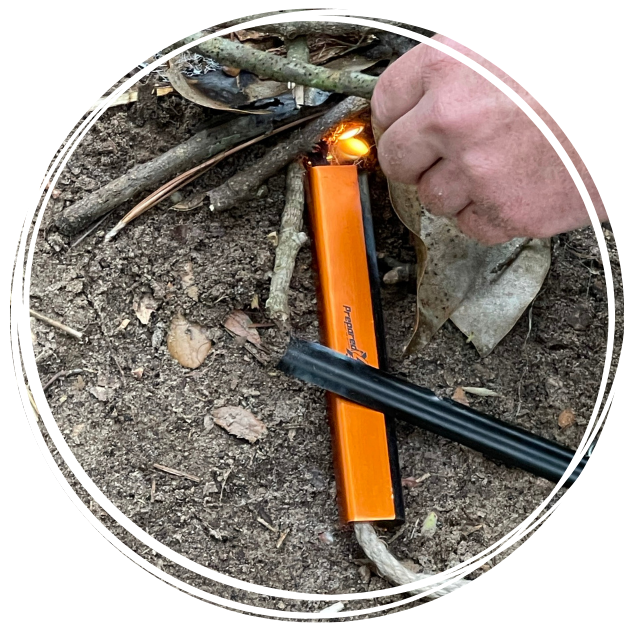 Camping must have! What a cool tool! A bit of a learning curve as I've never used on before, but once I got the hang of it wow! I can't wait to take this camping and use with my new fire pit. Love how compact it packs down to.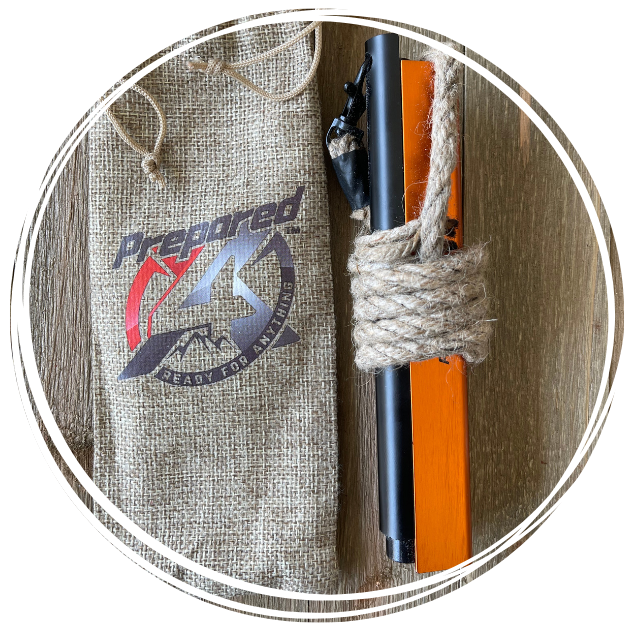 What a clever idea! 💯 Nicely designed and effective ferro fire starter. This tool will replace my old ferro rod in the daypack. We just ordered another one for the camping bag as well. You better get you some!

Best fire starter ever! Best fire starter I've ever seen! I received this product on time and it's great!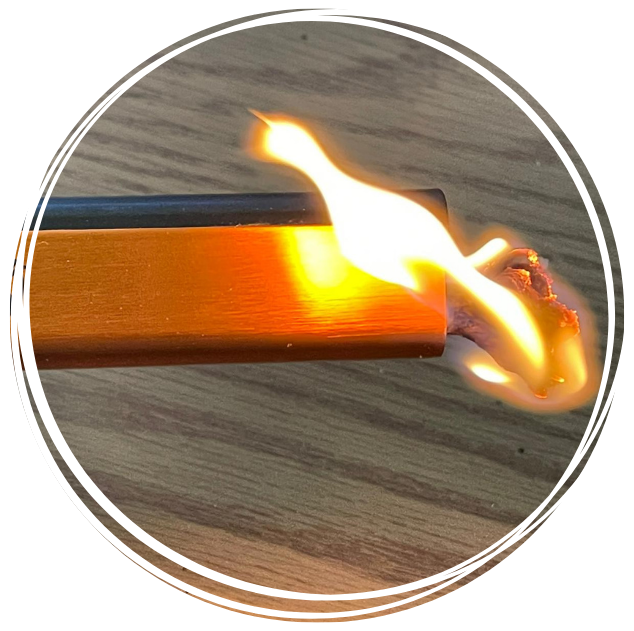 So simple a granny can do it! Bought one of these as a "kind of joke" gift for my 74 year old mom who is going through a prepper jag. Next day she texts me a photo of a lit wick with "I DID IT!!" in all caps. So there ya go....she made fire after a couple minutes of fiddling with it.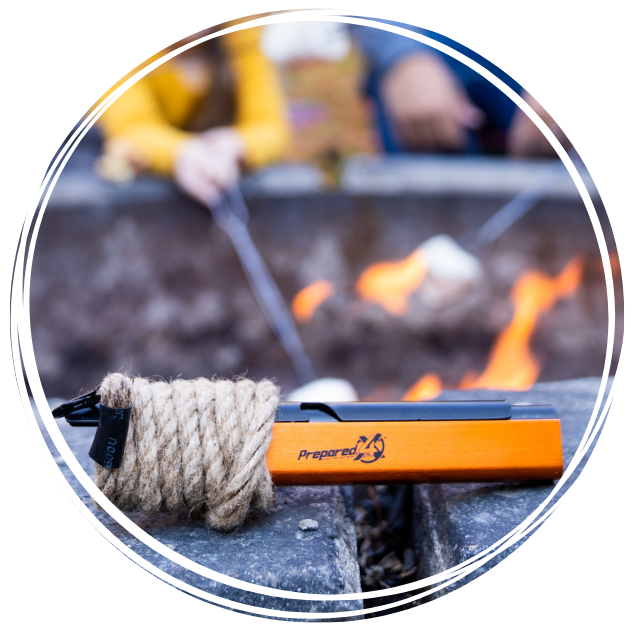 Amazing! I've been searching and trying different ways to get a "sure thing" fire started in different conditions and for me this is the perfect item. Creates a nice flame and combined with some fatwood makes lighting a fire in difficult conditions doable.

Everything You Need to Effectively Start a Safe, Controlled Fire
*Premium Quality Ferrocerium Rod
*36-Inch Wax-Infused Hemp Fire Starter Rope
*Curved Steel Striker
*Premium Aluminum Housing to easily control and extinguish fire
*Waterproof and All-Weather Resistant
Light a Fire Anywhere Instantly
Made with 6 x ½ inch (Large) or 4 x ⅜ inch (Small) Ferrocerium, this fire starter instantly produces a shower of glowing sparks with a single strike, guided directly to the wick by our curved steel striker for a strong, immediate flame to light your tinder, kindling, or hot coal fire.

The Ultimate Fire-Starter Tool
No need to buy a separate flint and steel, tinder wick, and bellow because this fire kit includes everything you need to create a safe, controlled fire.

Will Not Fail You in Emergency Situations
With a 36-inch infused hemp fire starter rope, this fire starter provides over 3+ hours of continuous burn time or thousands of single-strike uses.

Easy to Hold Flint Fire Starter
This fire kit packs easily into your go bag, hunting pack, or camping and hiking gear.
Available in:
*VERSION 1- ORIGINAL DESIGN
Large 6" (10 oz) and Small 4" (4.5 oz)
*VERSION 2- NEW THINNER AND LIGHTER DESIGN
Large 6" (8 oz) and Small 4" (4 oz)
All-Weather Resistant
Fully waterproof, wind-resistant, and weather-resistant, this emergency survival fire starter will ignite easily, even if it's been left out in the rain all night.
AS SEEN ON



FAQs
How do you use this fire starter kit?

PHOTO INSTRUCTION: prepared4x.com/survivaltorchinsert II VIDEOS: prepared4x.com/survivaltorchvid

Is the ferro rod flammable?

No. Please check this 30-minute continuous burn test video as proof: https://vimeo.com/539129062

Any additional tip for fast ignition of the rope?

1.) Make sure that the rope end is completely frayed. II 2.) Place the front end of the Survival Torch on the ground or a solid surface so the rope is bent up and sparks will be directed to the frayed end, and the solid surface gives you additional support while scraping the ferro rod.

What is the rope infused with? Can I buy more rope refill once mine is used up?

Our 36-inch fire starter rope is infused with a nontoxic and safe proprietary blend of wax substances. This blend provides water resistance for the rope, and fast hot ignition from a spark. Replacement ropes are now available. Sold separately.

The rope somehow came right out of the housing upon my second use. I have tried multiple ways to get it back through with no success. Any tips?

1.) If you are having trouble re-inserting the rope, you can cut or trim the rope end to get rid of loose strands. II 2.) Twist the rope end. The wax in the rope will maintain the twisted shape and re-inserting would be easier.

How do you move the rope in and out when it is less than 15 cm?

We recommend purchasing our replacement rope refill as you will need to remove the rope from the housing at 15cm. At that time, you can cut the 15cm remainder into smaller pieces and use it as fire tinder.

Does the wax effect of the rope lasts for many years after you start using it?

Yes, the wax-infused rope will last for many years as in a regular candle wick.

50,000+ Prepared
Customers!

Free
Shipping*

Secure
Checkout

30-Day
Returns