Mylar
Emergency
Ponchos
Retain 90% of Body Heat- Keep Your Hands Free With Our Poncho-Emergency Blanket Hybrid

Protection From Rain and Cold- No More Clutching Emergency Blankets Around You

2x Thicker Than Average Emergency Blankets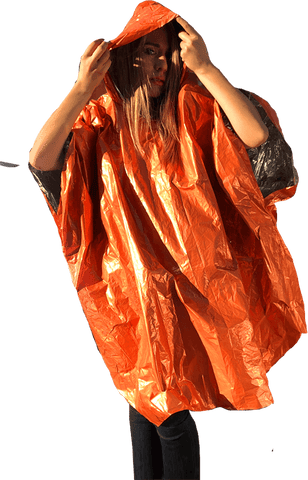 HOODED DESIGN PROTECTS YOUR HEAD FROM CRITICAL HEAT LOSS, HELPING TO KEEP HYPOTHERMIA AT BAY

DURABLE 26-MICRON MYLAR IS 2X THICKER THAN AVERAGE BLANKETS

WATERPROOF/WIND-RESISTANT 100% PROTECTION
ECOFRIENDLY REUSABLE AND RECYCLABLE

MILITARY-GRADE, NASA ENGINEERED MYLAR, RETAINS 90% BODY HEAT
Phil

I tested it outside which is freezing temperatures, and it definitely works great.

Prime

I took one out and tried it on and they are well made with thick material, unlike the other thin mylar blankets.

Lisa

These were a perfect addition to our survival bags we leave in autos. I chose due to the bright color.

AmBarbazon

They're much thicker mylar and stay on your body while still allowing freedom of movement. I'm going to order some more.

Quixote

We pulled them out during an unexpected downpour at Mt. Rainier and they were totally waterproof and pretty easy to move around in.
NO MORE CLUTCHING EMERGENCY BLANKETS AROUND YOU

Free your hands to do other critical things while keeping warm. Never chase wind-blown blankets again.

DUAL-PURPOSE PONCHO & THERMAL BLANKET COMBINED

We combined the warmth of a mylar blanket with the mobility of a poncho. Its hooded design protects your head from critical heat loss, helping to keep hypothermia at bay.

TWO SIDES & REVERSIBLE FOR HIGH VISIBILITY IN LOST/RESCUE SITUATIONS

Foil colored mylar sheet side is great for signaling search and rescue.

OUR 4-PACK HAS YOU COVERED - COMPACT AND LIGHTWEIGHT

Break out this poncho at the game, amusement park, concert, or tailgate. Keep these handy for car emergencies, first aid, hunting, camping, fishing, tactical bugout bags, and hiking gear.

MILITARY STRENGTH MYLAR - HEFTY HEFTY HEFTY!

26-micron mylar provides max tear resistance. Competing blankets are made of 12-micron thin and brittle mylar.

PROVIDE LIFE-SAVING BODY HEAT RETENTION

Our patent-pending design is 2x thicker than other blankets and works to help you retain 90% of body heat, even in the direst of circumstances.
TESTIMONIALS
I gave three of these away to trained medical volunteers at a protest when it started raining. They thanked me profusely. I kept one for myself, and I remained outside in quite heavy rain for about six hours thanks to this thing.

Marshall Finch

Works perfectly how it's suppose to!

Went and tried one out as soon as I got it. I tested it outside which is freezing temperatures, and it definitely works great. You can feel the heat being retained within the emergency poncho. It wasn't raining out but my guess is it will work just fine, with it blocking the wind and cold! Keeping one in my car!

Phil

Rarely rains in California but some days it wants to make up for the past few years! So it's nice to have an emergency rain ponchos in your desk, car or travel bag. Light weight but tougher then those $.99 space blankets. Bright orange on one side, great for signaling or getting drivers to see you on the road.

The Captain

This particular design is a game changer!

I took one out and tried it on and they are well made with thick material, unlike the other thin mylar blankets I have used in the past. The individual bag size is smaller than my phone would definitely recommend these over regular mylar emergency blankets. I am ordering more for gifts and to put in both vehicles.

PRIME

Fits easily in the glovebox. And the material is not the cheap, crinkly stuff you would expect, but a light, durable poncho. I plan to order more, so I can keep two in every vehicle I drive. It is also wonderful for attending outdoor sports and other events when the weather turns colder. It is very warm and comfortable. A+!

JEFF

Emergency Car and Home Kits

Bought these emergency ponchos for our cars in case we need to stay warm and or dry. These seem like a great idea since it frees up your hands to do other things and still be protected. They are now part of our emergency kits for our cars. I will purchase more for home and family.

C.Kit
FAQ
I'm a big guy, 6' 250#, will this work for me?

Definitely! I am a bigger guy 6.3' 300# and I have plenty of room. You will love it!

Are these ponchos one-time use or reusable?

Our ponchos are made of thick 26-micron mylar which makes them very durable. Most regular emergency blankets are only 12-micron. When taken good care of, most customers get at least 2 uses out of them. Simply fold the poncho up after use and it will be ready for the next event. In a rougher environment, customers use it one-time only.

Are these individually packaged to be easily stored?

Yes, each poncho is individually packaged in a Ziplock bag about the size of a deck of cards (5 x 3.25 inches) for easy storage.

Will this keep you warm bare skin to material?

Yes, it will, however having some layer of clothing will greatly improve the comfort as the clothes add insulation to keep the reflected heat in.

How long and wide are these ponchos?

FOLDED: 5 inches height x 3.25 inches width; OPEN/SPREAD OUT: 46 inches height (hood to bottom) x 49 inches width (sleeve to sleeve)

How noisy are they?

They are notably quieter than a regular emergency mylar blanket. The thickness of our ponchos makes the material much quieter.

When worn on the silver side out, is it still rainproof?

Yes. Moreover, if your goal is heat retention, I suggest that the silver side is inside to retain up to 90% of body heat, keeping you warm and safe. If your goal is to increase your visibility, you can wear the silver reflective side out.
EMERGENCY PONCHOS
Retain 90% of Body Heat- Keep Your Hands Free With Our Poncho-Emergency Blanket Hybrid

Protection From Rain and Cold- No More Clutching Emergency Blankets Around You

2x Thicker Than Average Emergency Blankets

50,000+ Prepared
Customers!

Free
Shipping*

Secure
Checkout

30-Day
Returns